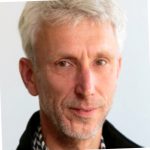 You can read all about my 25 years of international experience in marketing & communications on LinkedIn. Here, let's focus on the important stuff: why?
Why marketing & communications?
Once, a professor at University said that the objective of our profession (something health-carish) was to make people live as long and healthily as possible. I argued that the quantity and quality of life should be left to everyone's own choice. The role of science is to establish fact, relations and logic and it should limit itself to that. In other words, we would be happier in a perfectly transparent and egalitarian society, and morality (or better: normativity) is equally important to rationality. I have always seen marketing & communications as means to a better world, getting people to think, talk and act on important issues.
Why international?
Apparently I wanted to go abroad when I was very young. Maybe because my home country is so small, but more likely because I am very curious.
Why consulting & training?
I like to help others perform better and get bored easily. Traning and consulting use my strength and avoid my weakness.
Why not?
Because I also like doing other things. Taking care of the house and household. Writing stories and comedy. Sewing clothes, painting, and filming. Reading, playing with my tech, or walking in the bush.